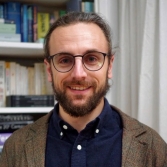 Senior Research Scientist – Global Nutrition
Davide Risso, MSc, PhD is Senior Research Scientist for Europe, Middle East and Africa in the Global Nutrition Team. He is responsible for nutrition-related research projects globally on Tate and Lyle's ingredient portfolio, in particular dietary fibers and low-calorie sweeteners, as well for the communication of evidence-based science for internal and external audiences.
Dr. Risso holds a PhD in the topic of Sensory Nutrition from the University of Bologna (Italy) and has held research positions at the University of Gastronomic Sciences (Pollenzo, Italy), at the National Institutes of Health (NIH) (Bethesda, MD, USA), at the German Institute of Human Nutrition (DIfE) (Nuthetal, Germany), and at the University of Washington School of Medicine (Seattle, WA, USA).
Prior to joining Tate & Lyle, he worked for Ferrero, a leading confectionery and sweet packaged food company, where he led nutrition research and contributed to developing products with improved nutritional profile. His research background is focused on sweet and bitter taste receptors and perception, food behaviors, and clinical genetics.
---