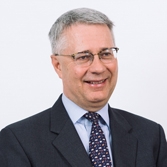 Interim Chair of the Board
Joined the Board in November 2018. Warren has an MBA from INSEAD and is a chartered accountant who served as Executive Director and Chief Financial Officer on the Board of Cobham Plc for 10 years until 2013, where he co-led the company's organic and strategic growth. Prior to Cobham, Warren held senior finance roles at Cable & Wireless and British Airways. He has extensive experience in large multinational and business-to-business organisations across several geographies and industries. He also brings an understanding of the investment community and shareholder institutions. Warren was a non-executive director of Reckitt Benckiser Group plc for a decade until 2021. He is currently Chair of TT Electronics Plc, and Audit Committee Chair at Modulaire Group.
Following the announcement on 3 July 2023, that Dr Gerry Murphy was stepping down, Warren is the Interim Chair of the Board. On 8 November 2023 we announced that David Hearn will take up the position of Chair and a director of the Board from 1 January 2024.
Chair of the Audit Committee, Interim Chair of the Nominations Committee, and member of the Remuneration Committee.
---