Search for jobs
Do you want to join a company that is working to make a difference in people's lives? Across the globe, we are improving lives for generations. And we need talented and skilled people to help us on this journey.
What the Food Technology, Innovation and R&D teams do
Our Food Technology, Innovation and R&D teams create the products of the future; by identifying customer needs and market trends they develop our manufacturing capabilities, so we can produce pioneering ingredients that people want and need.
These teams are based in our 15 cutting-edge innovation centres and application labs around the word; each centre is made up of 5 functions: New Product Development, Platform Management, Global Marketing, Open Innovation and Innovation Process.
This is a place for passionate scientists and those that get excited by the possibilities of food innovation. From creating enhanced ingredients that better customer's products to inventing new solutions, our team of scientists and technologists work at the cutting edge of innovation every day.
In return for your passion and expertise, you'll be hugely respected across the business and find that colleagues seek out your knowledge on a daily basis. These types of roles carry a great deal of responsibility but also give you the opportunity to make your mark in the food technology sector.
A few words from our people
"There's something special about the team I work with. We all work well together, complementing and helping each other…"
A career with us
Working at Tate & Lyle presents many exciting opportunities for growth and development.
About Tate & Lyle
Tate & Lyle is a vibrant, global and hardworking environment. We make food extraordinary and all our people have an important part to play in making this happen.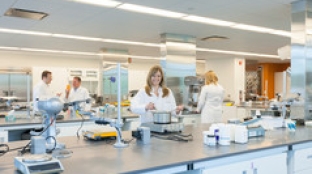 Find out more
IF you would like to know more about Innovation at Tate & Lyle why not visit our Open Innovation page.